How can I get admission in PGDM course?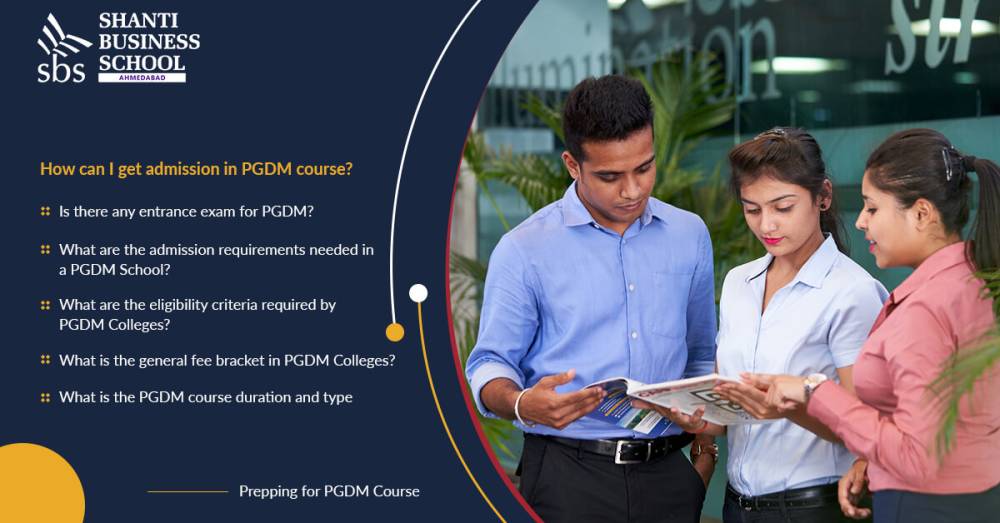 Management is one of the brightest career prospects in the horizon for upcoming professionals with multiple educational institutes now tailoring management courses specific to the student's requirement. With the need for proficient managers growing with each passing day, business schools across India and abroad are now redefining managerial studies with comprehensive PGDM courses moulding the future of tomorrow. Now, while students born with an inept leadership quality in them are sure of their career choices, one of the primary dilemma that students often face, at a time like this, is the selection of the right educational institute that can not only guide and train them, but also help them gain an added advantage in the industry by opening up employment opportunities for them. However, that's not all. There are a lot of basic questions that students are looking answers for- how much will the entire course budget be? Which PGDM Colleges are the best for them? What are the eligibility requirements for a PGDM course and the list goes on!
Acknowledging the dilemma most students are facing today, PGDM Schools like Shanti Business School has decided to break down the entire admission process for PGDM courses in Ahmedabad, India. We have hence, answered some of the most common questions PGDM students are looking for.
Q1. Is there any entrance exam for PGDM?
Ans- If you want to pursue your post-graduate diploma from a reputable PGDM College, the basic requirements start with a national level entrance exam which is mandatory for all students India and abroad. However, national level examinations will only qualify you for particular PGDM Schools. The top-notch PGDM courses would require you to apply for other subsidiary entrance exams as well, some of them which are CMAT, CAT, GMAT, MAT etc. Often, your CAT scores hold the key to cracking the best colleges in India. Once again, do remember a state-affiliated college and an independent educational institution will have varying requirements.
Q2. What are the admission requirements needed in a PGDM School?
Ans- In order to apply for a PGDM course, students or candidates need to have certain admission clearances which include-
If you're looking at top business schools in Ahmedabad, India, here is a score breakdown provided by Shanti Business School-
Q3. What are the eligibility criteria required by PGDM Colleges?
Ans- The eligibility criteria of the students heavily depend upon their educational background, the scores secured, and even their work experience. Usually, PGDM courses focus on individuals who are interested in furthering their career in the management position rather than individuals who are looking for further studies. Hence, eligibility criteria may also depend on the work experience of a person. In most cases however, the entrance exam scores are enough to secure you an admission eligibility level. Once the preliminary admission is approved, students or candidates will have to appear for other entrance rounds such as aptitude round, personal interview etc. The eligibility criteria will consider all of the above.
Q4. What is the general fee bracket in PGDM Colleges?
The fee structure heavily varies from one institute to another. The fee structure also varies on the type of affiliation you choose for your PGDM course. On a general note, the fee structure would vary somewhere between 1-8lakhs, but it can go higher or lower based on the organization, the specialization, and the course duration.
However, do take note, PGDM courses that are lesser than 2 years are often valued less as these express courses usually miss out on a lot of crucial training.
Q5. What is the PGDM course duration and type?
As mentioned above, PGDM courses in India tend to run an average 2 year term, anything below which is valued less. A 2-year PGDM course is considered equivalent to an MBA, based on the candidates' future plans.
Prepping for PGDM Course: Selection Process
Now, that we have answered some of the most-asked questions about the course, let's take a quick look into how a student should ideally prepare for the PGDM admission. When it comes to choosing the managerial leaders of tomorrow, most colleges have a thorough screening method that they use to identify the hidden talents. This can also be a learning process for the candidate who finds out about their specialization strengths during this process. To begin with,
PGDM courses have become an integral part of today's educational industry, holding bright career prospects for innate leaders. However, choosing the right PGDM course and the right PGDM college might be quite tiresome, which is why educational institutes like Shanti Business School is extending a helping hand to these aspiring leaders of tomorrow.