Exploring New Age Specializations in MBA/PGDM: Unlocking Future Opportunities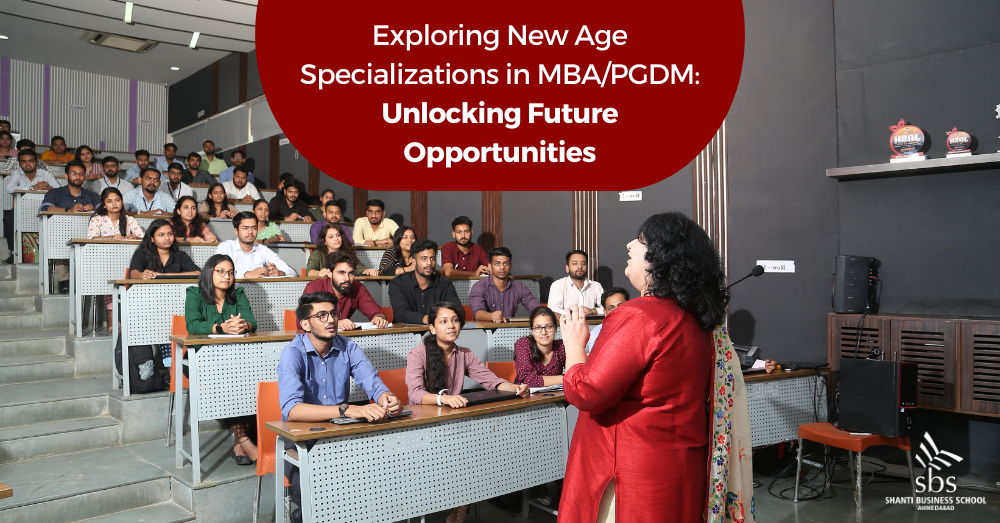 The world of business and management is continually changing as a result of technological breakthroughs, shifting customer preferences, and new global trends. Modern managers need to arm themselves with specialised knowledge and abilities to meet the demands of this quickly evolving business environment. A variety of modern specialisations have been added to traditional MBA (Master of Business Administration) and PGDM (Post Graduate Diploma in Management) programmes to meet the changing needs of various businesses. In this article, we'll examine a few of these cutting-edge specialisations and how they might open up intriguing job prospects.
1. Digital marketing and e-commerce: As the digital era progresses, companies are relying more and more on online platforms and digital marketing techniques to connect with their target markets. Students who choose to specialise in Digital Marketing and E-commerce get knowledge of e-commerce management, social media marketing, data analytics, and search engine optimisation (SEO). With the help of this specialisation, people may successfully traverse the rapidly evolving digital environment and take advantage of the opportunities it presents. Graduates can work as social media strategists, e-commerce consultants, digital marketing managers, or even launch their own online companies.
2. Business analytics and big data: Making decisions in today's data-driven world requires the capacity to gather, analyse, and comprehend massive amounts of data. Students who specialise in business analytics and big data can use data to fuel business expansion. Data mining, predictive modelling, statistical analysis, and data visualisation are all included in this field. Big data and business analytics professionals are in high demand across industries because they can help businesses make data-driven choices optimise processes, and spot new market trends. SBS offers a practical and rigorous study in data science; we provide hands-on experience and learning in data collection, computation, Artificial Intelligence (AI), and analytics.
3. Sustainability and Corporate Social Responsibility: As social responsibility and environmental issues gain popularity, firms are putting more emphasis on sustainability practises. Individuals that specialise in sustainability and corporate social responsibility (CSR) are more equipped to handle the ethical and environmental issues that organisations face. Students gain knowledge of how to create sustainable business plans, handle stakeholder interactions, and incorporate CSR programmes into daily operations. Graduates can work for companies that support social and environmental concerns or as sustainability consultants or CSR managers.
4. Entrepreneurship and Innovation: Innovation and the entrepreneurial spirit act as engines of economic progress. Students who choose to PGDM/MBA in entrepreneurship and innovation will have the knowledge and attitude needed to recognise business possibilities, create business plans, and deal with the challenges of launching and growing a new company. Graduates of this specialisation will be well-equipped to launch their own businesses or serve in executive positions at organisations that value innovation. It encourages creativity, critical thinking, and risk management abilities.
Conclusion: As the business landscape continues to evolve, new age specializations in MBA/PGDM programs are essential for professionals seeking to stay ahead in their careers. Specializations such as Digital Marketing and E-commerce, Business Analytics and Big Data, Sustainability and Corporate Social Responsibility, and Entrepreneurship and Innovation are just a few examples of the expanding array of options available. These specializations not only provide in-depth knowledge but also equip individuals with the practical skills required to thrive in the modern business world. By embracing these new age specializations, aspiring business leaders can unlock exciting career opportunities and contribute to the growth and success of organizations in the dynamic global marketplace. Shanti business school offers full-time PGDM and PGDM-Marketing to graduates who have the potential to succeed in an academically challenging and innovative environment.