5 Reasons to Pursue an MBA/PGDM in 2023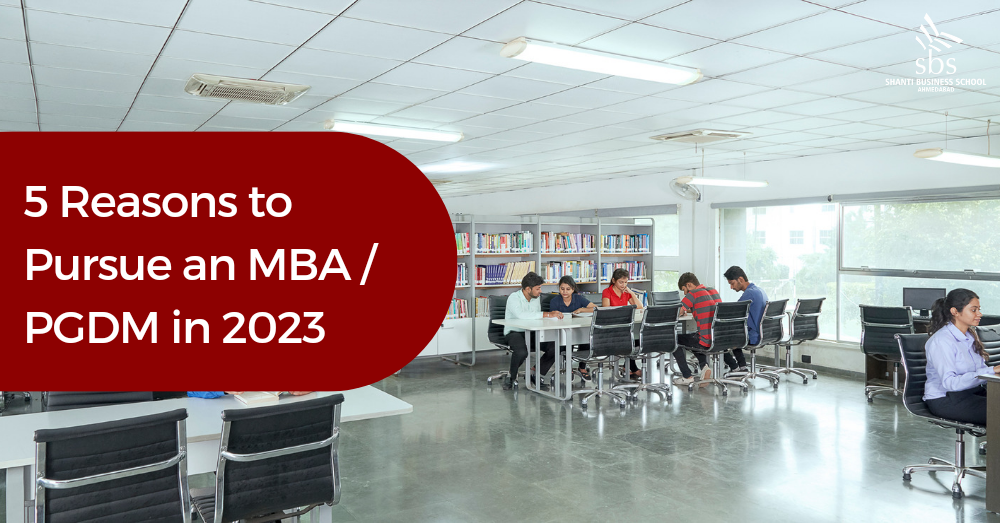 Pursuing a postgraduate degree in business administration can be a life-changing decision that can open up numerous opportunities in your career. In India, the Master of Business Administration (MBA) and Post Graduate Diploma in Management (PGDM) are two of the most popular programs in business administration that are highly sought after by both students and employers. Here are five convincing reasons why you should consider pursuing an MBA/PGDM degree in 2023:
1. Enhanced Career Opportunities
The job market is highly competitive, and employers seek individuals with strong analytical, leadership, and decision-making skills. An MBA/PGDM degree can provide you with these skills and give you an edge over other candidates. According to a study by the Graduate Management Admission Council (GMAC), 75% of employers in India plan to hire MBA graduates in 2023. Moreover, MBA/PGDM graduates have a higher chance of advancing to senior positions and earning higher salaries.
2. Diverse Career Paths
An MBA/PGDM degree can open up diverse career paths, allowing you to work in different industries such as finance, consulting, marketing, and entrepreneurship, to name a few. The knowledge and skills you gain from an MBA/PGDM program are transferable across industries, providing you with greater flexibility and choice in your career.
3. Personal and Professional Development
An MBA/PGDM program is not just about gaining theoretical knowledge; it is also an opportunity for personal and professional development. The program is designed to challenge your thinking, expose you to new ideas and perspectives, and provide you with the necessary skills to tackle complex business problems. Additionally, working on group projects and interacting with diverse individuals can enhance your interpersonal and communication skills, which are critical for success in the business world.
4. International Exposure
The world of business is becoming increasingly globalized, and employers seek individuals with cross-cultural competencies and a global mind-set. Pursuing an MBA/PGDM degree can provide you with international exposure through study tours, internships, and exchange programs. This can broaden your horizons, expand your network, and give you a better understanding of different cultures, which can be invaluable for a global career.
5. Entrepreneurial Skills
If you aspire to become an entrepreneur, pursuing an MBA/PGDM in Entrepreneurship degree can be a wise investment. Many MBA/PGDM programs offer specialized courses in entrepreneurship and innovation that can equip you with the skills and knowledge required to start and run a successful business. Additionally, these programs provide access to a vast network of alumni and mentors who can provide guidance and support throughout your entrepreneurial journey.
Final Thoughts:
There are a number of schools for doing a PGDM or an MBA and one should look at all parts while choosing the Top B-School or a MBA College In India because those two years will help you carve a path to a successful career and fulfill your dreams.