Book Wizard Club

The Library Club known as Book Wizards Club at Shanti Business School is an active club that organizes literary activities every first Saturday and third Saturday of the month. The library club intends to foster learning, communication, and ignite enthusiasm and fun amongst our student managers. These events will help student managers to develop their curiosity, expressive skills, and bonding with one of mankind's oldest friends Books.
Manthan

The Book Talk Club
"Knowledge by osmosis has not yet been perfected, so you'd better read." To inculcate the reading habit and also to facilitate people to share the knowledge with others, SBS has started "Manthan" The Book Talk Club. Under this initiative, every 1st and 3rd Friday of the month any member of SBS or a Person from outside SBS can share the content of his/her recently read book with the Audience.
Stock Ki Paathsala

Keeping in mind the needs and dynamics of financial education, Shanti Business School has launched its "Student Finance Cell" which will conduct a series of different activities for the enhancement of financial knowledge and investment etiquette for student managers. Stock ki Paathsala is the first webinar conducted for students to educate them about the current situation of the stock market and to make them aware about the basics of stock market trading and the common mistakes that people commit while investing. The first webinar from the series was conducted by Mr. Mahesh Pandya Senior Executive) from Investor protection fund, BSE.
Sahas

Start-up Charcha Club
Start-up Charcha Club provides a channel through which Student Managers of SBS can interact with Start-up entrepreneurs, where the aim is to ensure that these interactions ignite enthusiasm towards the Creation of Enterprise, Innovation, and Entrepreneurship ideas among our student managers. Sahas will also be a conduit of entrepreneurial and start-up information for Students, it will connect SBS aspirants to the robust startup and entrepreneurial ecosystem of India. It is also intended to encourage students to look beyond the conventional placement mindset and take action to become job givers rather than job seekers. While informal and own-time work will be done by students at their own pace. Every second and fourth Friday of the month has been earmarked for interaction between SBS Student Managers and Start-up Entrepreneurs. This interaction will take place in hybrid mode depending on the prevailing situations. In these interactions, the Start-up entrepreneurs will discuss their journeys, learnings, and future plans to capitalize on the opportunities that they see in their respective sector/industries.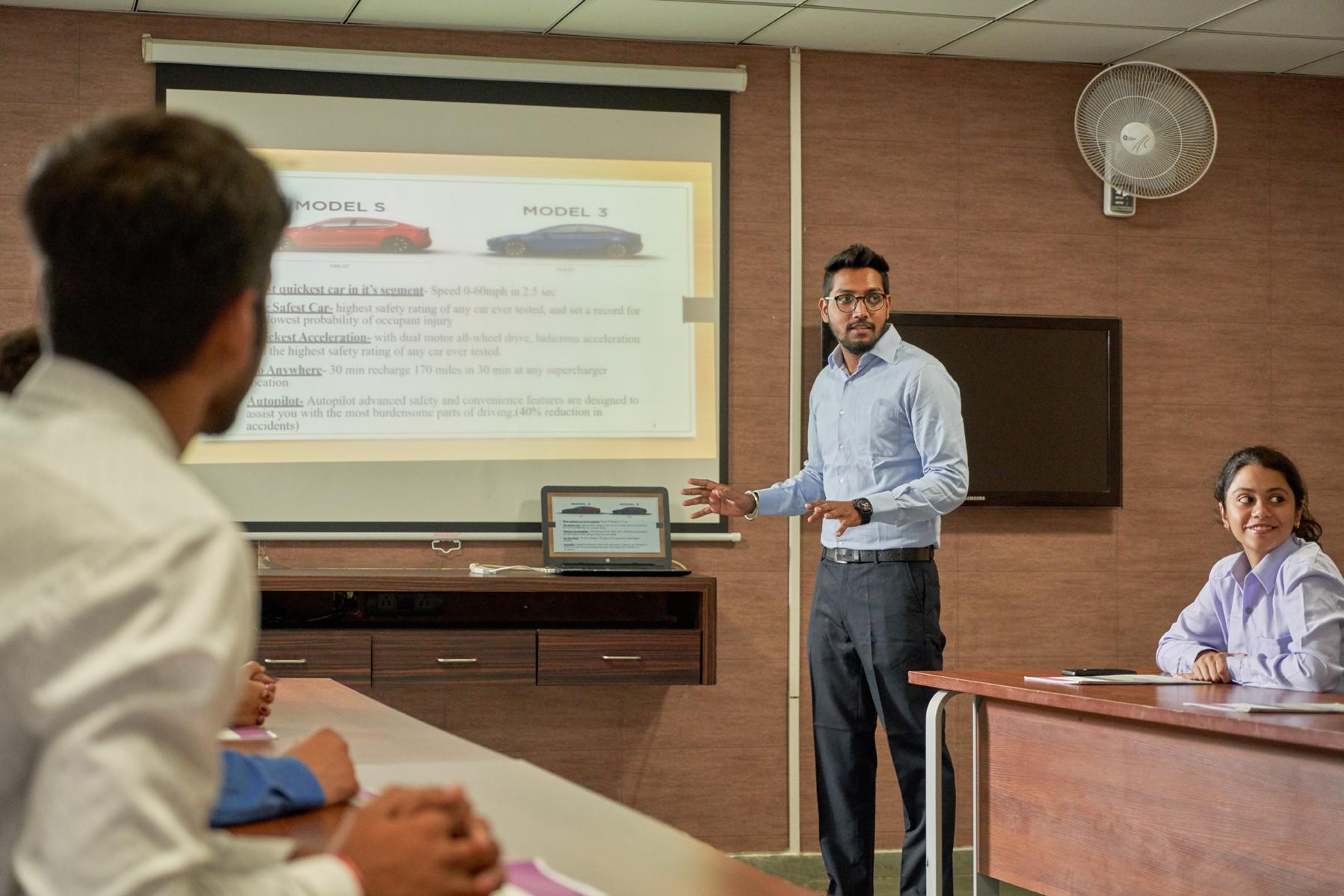 Samvad

Debate Forum
SBS aims not only at nurturing excellent business managers and leaders but also informed and rational citizens. "SAMVAD" as a vibrant debate forum at SBS provides a platform for student managers to enhance their communication, articulation, and analytical skills. It encompasses the debates on various contemporary issues including business practices, socio-political, and economic policies, etc. SAMVAD has become an integral part of the learning process at SBS and is well appreciated by all the participants as well as the audience.