Unlocking New Horizons: 5 Career Opportunities after a PGDM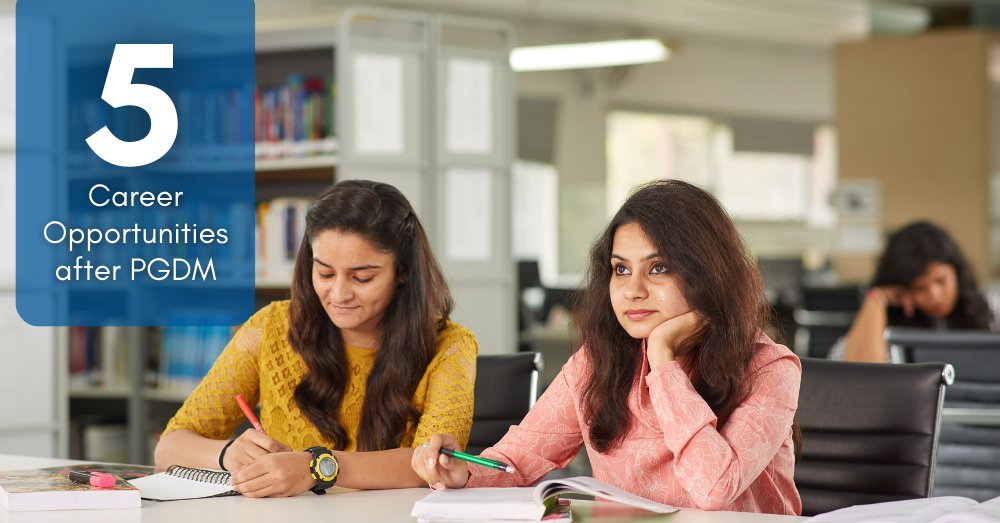 Are you a PGDM aspirant or a recently graduated PGDM student unsure of what career opportunities lie ahead? Look no further, because we've got you covered! With the dynamic and ever-evolving business landscape, there are numerous fields where your skills and knowledge can be put to use. In this post, we'll explore some exciting new horizons in the job market for PGDM graduates. So grab a cup of coffee and let's delve into these five career paths that await you after achieving your PGDM degree!
Introduction to PGDM
A postgraduate diploma in management (PGDM) is a two-year course that helps students hone their skills in various aspects of business. The course includes core subjects such as accounting, finance, marketing, and human resources. Students can also choose from a range of electives to specialize in an area of their interest.
PGDM programs are offered by many business schools across India. These programs are designed to prepare students for leadership roles in the corporate world. A PGDM degree equips students with the necessary skills and knowledge to take on challenging positions in companies.
Students who have completed a PGDM course have gone on to have successful careers in various industries. Many have started their own businesses, while others have taken up senior positions in leading organizations. A PGDM degree thus opens up a world of opportunities for those who wish to pursue a career in management.
Top 5 Career Opportunities after a PGDM Degree
When it comes to choosing a post-graduate degree, the PGDM program has emerged as one of the most popular options among students. This is because a PGDM degree opens up a world of career opportunities that were not previously available. Apart from the traditional roles in management and administration, graduates with a PGDM degree can now pursue careers in fields such as marketing, human resources, finance, and even operations management from the top business school in India.
The following are some of the top career opportunities after completing a PGDM program:
1. Marketing Manager: A marketing manager is responsible for planning and implementing marketing strategies to promote a company's products or services. They work closely with other departments such as sales, research, and advertising to ensure that the marketing campaign is successful.
2. Human Resources Manager: A human resources manager is responsible for overseeing all aspects of an organization's human resources function. They manage activities such as employee recruitment, training, and development.
3. Finance Manager: A finance manager is responsible for overseeing all aspects of an organization's financial operations. They work closely with senior managers to develop financial plans and budgets.
4. Operations Manager: An operations manager is responsible for overseeing all aspects of an organization's operations. They work closely with other departments such as production, supply chain, and customer service to ensure that operations are running smoothly.
5. Business Development Manager: A business development manager is responsible for identifying new business opportunities and developing plans to pursue them.
Emerging opportunities after PGDM
1. Financial and Management Analyst
A career in finance and management analysis can be extremely rewarding. With a PGDM finance degree, you will be able to work in a variety of industries and organizations, providing critical insights and analysis that can help drive business decisions.
As a financial and management analyst, you will be responsible for evaluating data and trends to identify opportunities and risks for businesses. You will need to be able to effectively communicate your findings to decision-makers, so that they can make informed decisions.
This role requires strong analytical skills, as well as the ability to think strategically and creatively. If you have these skills and are looking for a challenging and exciting career, then a career in finance and management analysis may be right for you.
2. Digital Marketing
The digital marketing landscape is always evolving and with it, so are the career opportunities for those with a PGDM degree. Here are just a few of the many options available to you:
i) Digital Marketer
As a digital marketer, you will be responsible for planning, executing and managing digital marketing campaigns for your company or clients. This will include everything from developing strategy, to creating and managing content, to executing social media and email marketing campaigns. You will need to be well-versed in all things digital marketing, including SEO, SEM, web analytics and more.
ii) Social Media Manager
If you love spending time on social media, then a career as a social media manager could be perfect for you! As a social media manager, you will be responsible for representing your company or client's brand online and engaging with their audience. This will involve creating and curating content, monitoring comments and messages, running ads and promotions, and much more. You need to have excellent written and communication skills, as well as aCreative mind to succeed in this role.
iii) Content Writer/Manager
As a content writer or manager, you will be responsible for creating compelling content that speaks to your company's or client's target audience. This could include blog posts, articles, website copy, eBooks, whitepapers, info graphics – the list goes on! To excel in this role, you need a grip over reading and tools of content creation and dissemination
3. Business Operation Manager / Consultant
As a business operation manager or consultant, you will be responsible for streamlining the operations of a company and improving its overall efficiency. In this role, you will work closely with senior managers to identify areas of improvement and implement changes that can make a positive impact on the company's bottom line. You will also be responsible for conducting cost-benefit analyses to help decision-makers understand the financial implications of proposed changes. To succeed in this role, you will need to have strong analytical and problem-solving skills, as well as the ability to think outside the box and come up with innovative solutions.
4. Human Resource Professional
As a Human Resource professional, you will be responsible for sourcing, screening, and selecting candidates for various organizational roles. You will also be involved in training and development programs, performance management, and employee relations. In addition to these core HR responsibilities, you may also be involved in other aspects of the business such as strategic planning, change management, and process improvement initiatives.
5. Entrepreneurial Ventures
A PGDM degree opens up a world of opportunities for students, both in terms of careers and entrepreneurship. For those who wish to take the entrepreneurial route, a PGDM degree in entrepreneurship can provide the perfect foundation for starting their own business. A PGDM course gives students a comprehensive understanding of all aspects of running a business, from marketing and finance to operations and HR. This knowledge is essential for anyone looking to set up their own company. Additionally, the network of contacts that students build up during their studies can be invaluable when it comes to finding partners, suppliers or investors for their business.
Prerequisites for Career Advancement
For many students, a PGDM is the first step on the path to their dream career. It opens up new opportunities and can help you stand out from the crowd when applying for jobs. However, there are certain prerequisites for advancement in your career after completing a PGDM. Here are four things you need to do to set yourself up for success:
1. Get experience in your field of interest
One of the best ways to prepare for a career after graduation is to gain experience in your field of interest while you are still in school. If you know what industry you want to work in after graduation, try to get an internship or part-time job in that sector during your studies. This will give you a chance to learn about the industry and build up your skills and experience.
2. Develop your professional network
Another important prerequisite for advancing in your career is developing a strong professional network. Start networking early on by attending industry events and connecting with professionals on LinkedIn and other social media platforms. The more connections you have, the better your chances of landing a job after graduation.
3. Build up your skillset
In today's competitive job market, it's not enough to just have a degree – employers are looking for candidates with a strong skillset as well. To make sure you're able to compete for the best jobs, start building up your skillset while you are pursuing your PGDM
Personal Growth Opportunities through PGDM
A PGDM degree provides many personal growth opportunities that can help you advance your career. The first is the opportunity to learn new skills and knowledge. A PGDM program will provide you with the latest theories and practices in management, which can help you be a more effective leader in your organization. Additionally, a PGDM degree gives you the chance to network with other professionals and build relationships that can help you in your career. Finally, a PGDM degree can give you the confidence and credibility to take on more responsibility and advance in your career.
Conclusion
Pursuing a PGDM degree can be a great way to open up new horizons and explore exciting career opportunities. With the right skills and qualifications, as well as an understanding of the key elements related to running a successful business, this pathway can provide you with an array of lucrative job options. There are many PGDM schools in India from that you can pursue your post-graduation education to move forward in your career goals. Whatever route you decide to take after your graduation.
We wish you all the best on this journey!
Blog by:
Dr Prashant Pareek | Faculty Mentor
Shanti Business School, Ahmedabad